Event
Sport event dedicated to handisport, runners and walkers.
Start :
Sunday 28th May 2023 at 10am
Start Handisport at 09:30 a.m
Place of departure
Parc du Cinquantenaire
Brussels – Belgium
Registration
From March 2023
REGISTRATION
Registration for the race begins on March 2023.
The number of participants is limited.
The registration fee is 28€, including VAT.
You can register via
1° Internet : www.20kmdebruxelles.be or
2° At our headquarters : 17 rue de la Chapelle, 1000 Brussels
The registration fee is non-refundable. Any changes related to the bib-number must be made in person at our headquarters and a service fee of 10€ will be applied.
All participants must be at least 12 years of age. The organizers encourage all individuals to undergo a physical examination prior to the race.
HANDISPORT, RUNNERS AND WALKERS
Handisport:
The start of handisport will be given from 9:30 am.
Runners:
The start of runners will be given from 10:00 am in 5 waves.
Walkers:
The walkers will start from 10:30 am from box 6.
Spectators:
Come encourage the participants along the course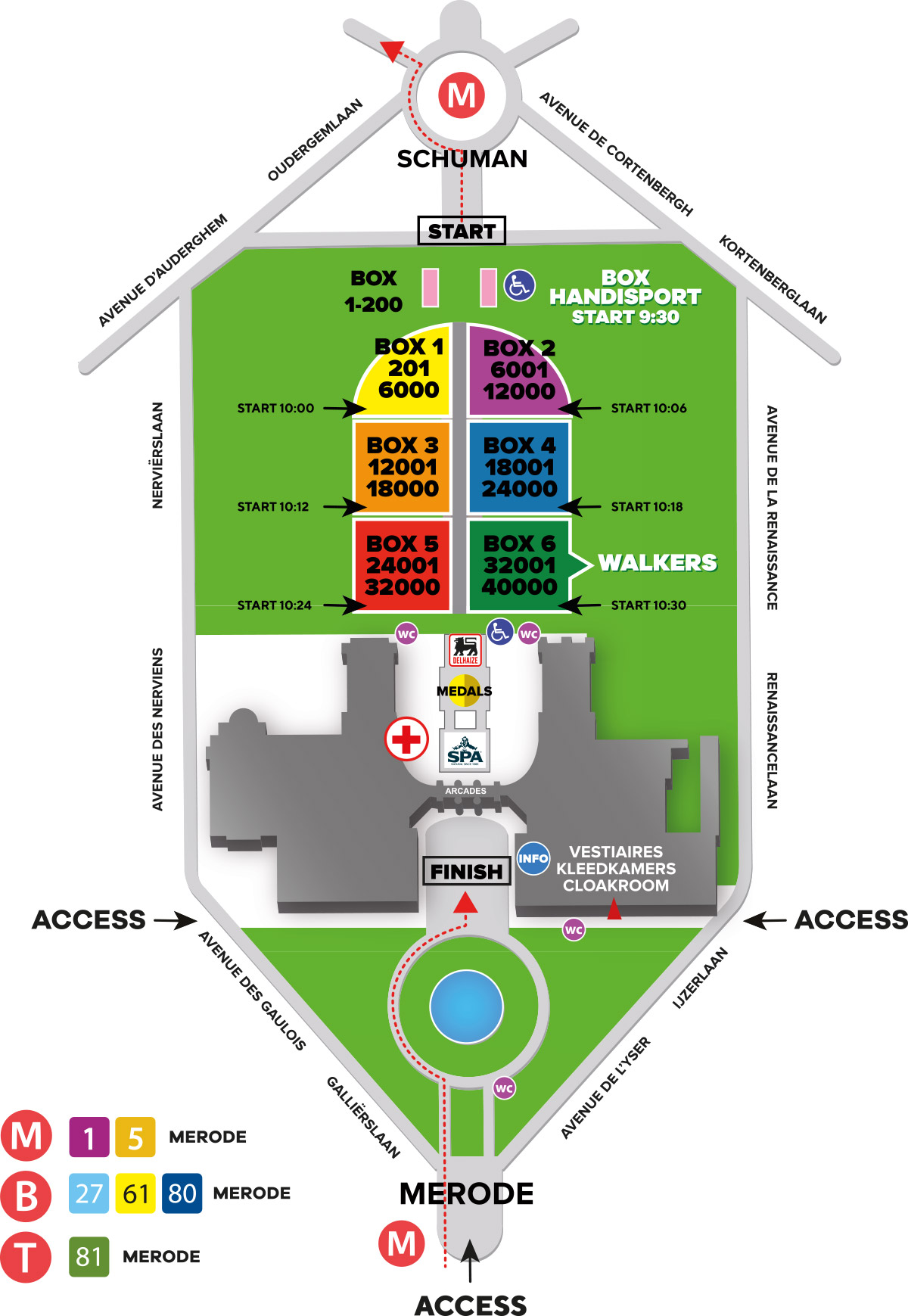 RACE NUMBER
The number attributed to each participant will be based either on your time in the 2022 race, or on an equivalent distance elsewhere and depending on the availability of the race-numbers.
Participants who register via Internet will receive a confirmation e-mail of the departure wave and will be invited to pick up their race number at the race headquarters, rue de la Chapelle, 17, Brussels, between 9:00 a.m. and 6:00 p.m. Monday to Friday.
On Friday 26th, Saturday 27th  you can pick up your number at the INFO stand located on the Esplanade du Cinquantenaire.
NEW: It will no longer be possible to collect your number on the day of the race, except for participants living abroad.
CHANGING ROOMS
A changing room will be made available to participants, free of charge, in the Royal Army Museum, located in the Parc du Cinquantenaire. Participants are kindly requested to treat the museum and its holdings respectfully. Only individuals wearing a bib-number will be admitted. The organizers decline any responsibility regarding lost or stolen property from the premises.
THE RACE
Each participant has 5 hours to complete the race. After the sweep bus pass, normal traffic will resume and participants should stay on sidewalks and be careful when crossing roads.
There will be six course fluid stations along the route offering SPA water. AQUARIUS drinks will be distributed in the Bois de la Cambre.
MEDALS AND RANKING
Every participant who crosses the finish line will receive a medal and can download a certificate from the Internet. Overall results as well as results for women, men, « handisport » and for specific teams will be made available online. The rankings will also be published in « DH Les Sports » newspaper on Tuesday, May 30th.
The « team challenge » aims at boosting your company's team spirit and helps to support a « charity cross » project. To qualify as a team, your group must count at least 10 people. Your team's ranking will be determined on the basis of the top five team members' times.
LIABILITY
The organizers decline any responsibility in case of theft or loss of race number. The racer is solely responsible. Everybody takes part in this event at their own risk. The Red Cross will be on hand at different locations along the route to provide medical assistance.