PUBLIC TRANSPORT
Bancontact treats you to the Brussels 20 km race: supports all sports enthusiasts by introducing them to contactless payment on the STIB-MIVB network.
Use your contactless Bancontact card on 28 May between 7.30 am and 10.30 am and travel for free by public transport in Brussels! The system is simple: hold your contactless card against the grey validator and get around in the entire city for free during 1 hour with the metro, tram and bus. You'll find all practical info about this action on the website of the STIB-MIVB.
Metro : Lines 1, 5 Merode, Montgomery, Schuman
Tram : Line 81 Merode – Lines 7 & 25 Montgomery
BIKE
Free secured bike park in Park du Cinquantenaire. From 8am till 5pm.
How does it work ?
Park your bike for free and receive a code by text message that you can use at the exit when you pick up your bike.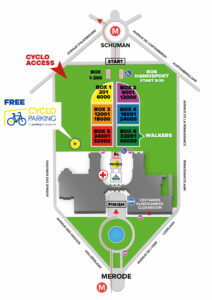 Car
If you travel by car we strongly advise you to park in the parking lots around Brussels. The easiest parkings near public transport are located in Kraainem (E40) and Delta (E411).
You can then take the metro 1 "GARE DE L'OUEST" or 5 "ERASMUS" and get off at  "MERODE". This will allow you to get to the start in a few minutes. STIB will reinforce the security and traffic flow control at "Merode" station. We recommend that you buy your tickets in advance. There will be one entry to go IN the station merode and one entry to EXIT the station Mérode.
At the arrival of the race, the access to the Merode station will be:
Access 1 and 4 (side Parc du Cinquantenaire) : ENTRY to the station
Access 7 and 8 (side Merode train station, avenue de Tervuren towards square Montgomery) : EXIT from the station
Access 2 and 3 are closed!
To facilitate movement in the station, please follow the guidelines of the STIB agents present
Flight
Your flight to Brussels Airport – Zaventem. Then take public transport.