HOW TO GET TO THE 20 KM OF BRUSSELS?
The best way to get to the starting line of the 20 km of Brussels is to use public transport!
You don't have a ticket to travel with the STIB? You can simply travel with your contactless bank card for only €2.10.  Scan your bank card, smartphone or connected watch on the grey validator in the metro, tram, or bus and voilà!
PUBLIC TRANSPORT
Metro
Line 1: Mérode, Montgomery and Schuman
Line 5: Mérode and Schuman
Tram
Line 7 and 25: Montgomery
Line 81: Mérode
At the arrival of the race, the accesses to Mérode station is dedicated:
Accesses 1 and 4 (Parc du Cinquantenaire side): entrance to the station
Accesses 7 and 8 (Mérode station side, avenue de Tervuren towards square Montgomery): exit from the station
Accesses 2 and 3 are closed.
To facilitate movement in the station, please follow the instructions of the STIB agents on site.
Train
Brussels Central and then Metro line 1 or line 5
Brussels North and then Tram line 25
Brussels Midi and then Tram line 81
Etterbeek station and then Tram line 7 or line 25
Brussels West and then Metro line 1
Brussels Schuman
BIKE
Free secure bicycle parking in the Cinquantenaire Park. From 8am to 5pm
How does it work? Park your bike free of charge and receive a code by text message which you can use at the exit when you collect your bike after the event.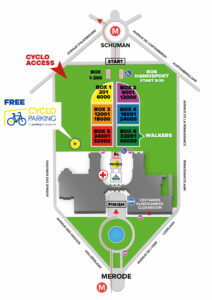 CAR
If you come by car, we invite you to park in the car parks around Brussels.
You can find the different car parks here: https://www.parkandride.brussels/en/park-ride-brussels/
PLANE
Take a plane to Brussels – Zaventem airport. Then take public transport to the start of the 20 km of Brussels (Train to Brussels Central and then Metro 1 or 5 to Mérode).
HOW TO GET AROUND DURING THE 20 KM OF BRUSSELS?
The use of cars in Brussels is strongly discouraged on Sunday 28 May from 9am to 4.30pm.
Parking is prohibited along all the roads used by the course. Any vehicle found to be in breach of this rule will be towed away.
Please use public transport (stib.be, sncb.be, letec.be, delijn.be) to get around.
Route
The "20 Km of Brussels" will pass through the Schuman roundabout, Rue Froissart, Rue Belliard, Boulevard de la Régence, Place Poelaert, Avenue Louise, Bois de la Cambre, Avenue Franklin Roosevelt, Chaussée de la Hulpe, Boulevard du Souverain and Avenue de Tervuren.
All these roads will be closed from 8.30 in the morning.
The streets will be reopened gradually after the Brussels Cleanliness teams have passed through. Rue Belliard will be opened to traffic at around 12 noon, Avenue Louise at around 1pm, Avenue Franklin Roosevelt at around 2pm, Boulevard du Souverain at around 3pm and Avenue de Tervuren at around 4pm.
There are several ways to cross the 20 km of Brussels.
You can go over the Herrmann-Debroux viaduct if you need to return to the city from the E411.
If you have to go into the city, we advise you to take the Chaussée de Louvain to go towards Madou and then to use the tunnels of the inner ring road which remain open.